Welcome to the official website of the Talbot County Sheriff's Office. This site has been uniquely designed with our citizens in mind as we continuously seek out new ways to enhance the public's accessibility to our office and our various services.
We have come a long way since Sheriff Mosses Stagwell was sworn in as the first Sheriff of Talbot County in 1662. The men and women of our county-wide, full-service law enforcement agency strive to fulfill our constitutional duties and to address our public safety mission while improving the quality of life for those living, working and visiting Talbot County.
The Sheriff's Office is proud of the alliance we have established here in Talbot County with our citizens, businesses, community organizations, government leaders, faith based organizations, fire departments, emergency services, schools and our fellow law enforcement partners.
Our collaborative efforts are vital to providing quality service to our families and visitors. Together, we continue to reduce the incidence of crime while leading the way in educating our families about substance abuse through our Talbot Goes Purple educational campaign.
It is my hope that this site will allow our families and visitors to better understand our role and increase your accessibility to those that faithfully serve you. It is my distinct honor and privilege to lead a Sheriff's Office that is highly visible and proactive while delivering fair and professional police services to the citizens which we are sworn to protect.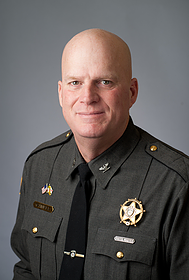 Joe Gamble is serving in his second term as Sheriff of Talbot County, Maryland after having served with the Maryland State Police for more than 27 years.
During his state police years he served as a uniformed patrol trooper, undercover narcotics investigator and as a homicide investigator and later the commander of the state-wide Maryland State Police Homicide Unit. Joe co-founded the Talbot Goes Purple drug education and prevention campaign that educates students, parents and grandparents about the dangers of prescription opiates and the heroin epidemic.
Our Mission: To provide comprehensive police service in a fair and impartial manner, at the standard, quality, and performance level that our residents and visitors expect and deserve.
Guiding Principals: 
- Professionalism
- Commitment
- Competency
- Personal Value
- Challenge
Code of Ethics: As a law enforcement officer, my fundamental duty is to serve the community; to safeguard lives and property; to protect the innocent against deception, the weak against oppression or intimidation and the peaceful against abuse or disorder; and to respect the constitutional rights of all to liberty, equality and justice.
I will keep my private life unsullied as an example to all and will behave in a manner that does not bring discredit to me or to my agency. I will maintain courageous calm in the face of danger, scorn or ridicule; develop self-restraint; and be constantly mindful of the welfare of others. Honest in thought and deed both in my personal and official life, I will be exemplary in obeying the law and the regulations of my department. Whatever I see or hear of a confidential nature or that is confided to me in my official capacity will be kept ever secret unless revelation is necessary in the performance of my duty.
I will never act officiously or permit personal feelings, prejudices, political beliefs, aspirations, animosities or friendships to influence my decisions. With no compromise for crime and with relentless prosecution of criminals, I will enforce the law courteously and appropriately without fear or favor, malice or ill will, never employing unnecessary force or abuse and never accepting gratuities.
I recognize the badge of my office as a symbol of public faith, and I accept it as a public trust to be held so long as I am true to the ethics of police service. I will never engage in acts of corruption or bribery, nor will I condone such acts by other police officers. I will cooperate with all legally authorized agencies and their representatives in the pursuit of justice.
I know that I alone am responsible for my own standard of professional performance and will take every reasonable opportunity to enhance and improve my level of knowledge and competence.
I will constantly strive to achieve these objectives and ideals, dedicating myself before God to my chosen profession . . . law enforcement.